Dengue Stats, Graphs, & Images
Dengue Morbidity and Mortality in the Americas:
Honduras, Brazil, and Puerto Rico°*
Dengue exhibits episodic major outbreaks every three years or so, the most recent being in 2010 and in 2007. On top of this trend, the past decade has seen a steady increase in the basal levels of disease. In the case of Brazil, the basal level has increased roughly 3-fold over the past decade. These trends result, in large part, from the complex population dynamics of the disease vector, the Ae. aegypti mosquito.
The Ae. aegypti strain is making a comeback in the Americas with its furthest waves lapping onto N. American shores.
Notes:
° - Data from Pan American Health Organization/WHO; weblink
* - "Total" refers to the total number of reported cases of dengue; these cases are not necessarily lab-confirmed; "SD" refers to severe disease, namely dengue hemorrhagic fever (DHF) & dengue shock syndrome (DSS). "YTD" is year-to-date.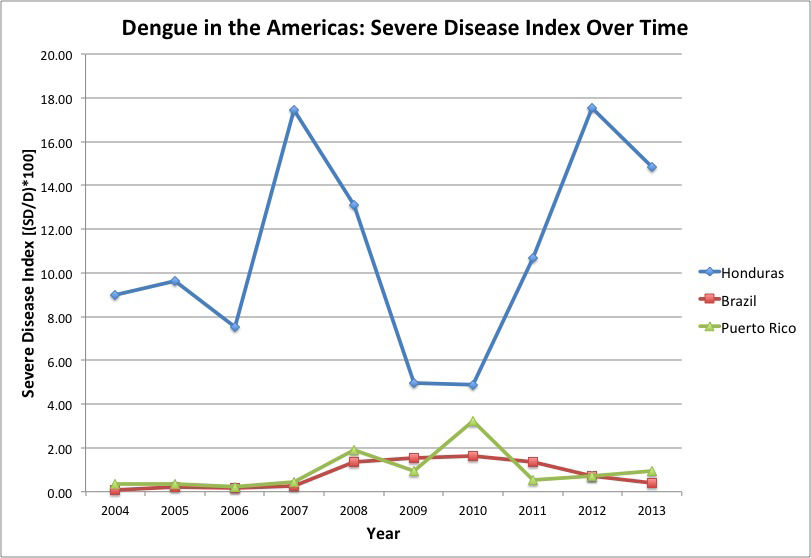 Notes:
This figure shows the dengue "severe disease index" (SDI; calculated as the % of severe disease cases (DHF & DSS) among all dengue cases that year). The SDI is plotted over the past decade for three representative countries in the Americas: Honduras, Brazil, and Puerto Rico. Note that Honduras has had an unusually high SDI, especially 5 of the 7 past years.
© 2012-2014 Acton Biotech Consulting - See Image Credits page for attribution and license conditions for non-original images/media.
Important DISCLAIMER - This is a science & technology website and not a medical treatment or diagnostic site. No information contained within this site is a substitute for advice or direction given by qualified medical professionals, nor is it intended to inform patients regarding treatment options or disease diagnosis/prognosis. As always, individuals should consult their own medical team about issues concerning their health and well being.